GENDER DIVERSITY & INCLUSION FROM

THE WORKFORCE TO THE BOARDROOM

Discover tools to help companies address gender gaps on boards, in senior management, and in the workforce.
TOOL SUITE 1
WHAT'S IN THE TOOL SUITE?
23 practical tools and guidance notes for companies to build a gender diverse and inclusive workforce and board.
BENEFITS OF GENDER INCLUSIVITY
inclusivity - great for business
The infrastructure sector is heavily male dominated. But women's inclusion in the water, cities, power, and transport sectors can boost financial performance, strengthen the talent pool, and improve organizational culture, operational safety, and community relations.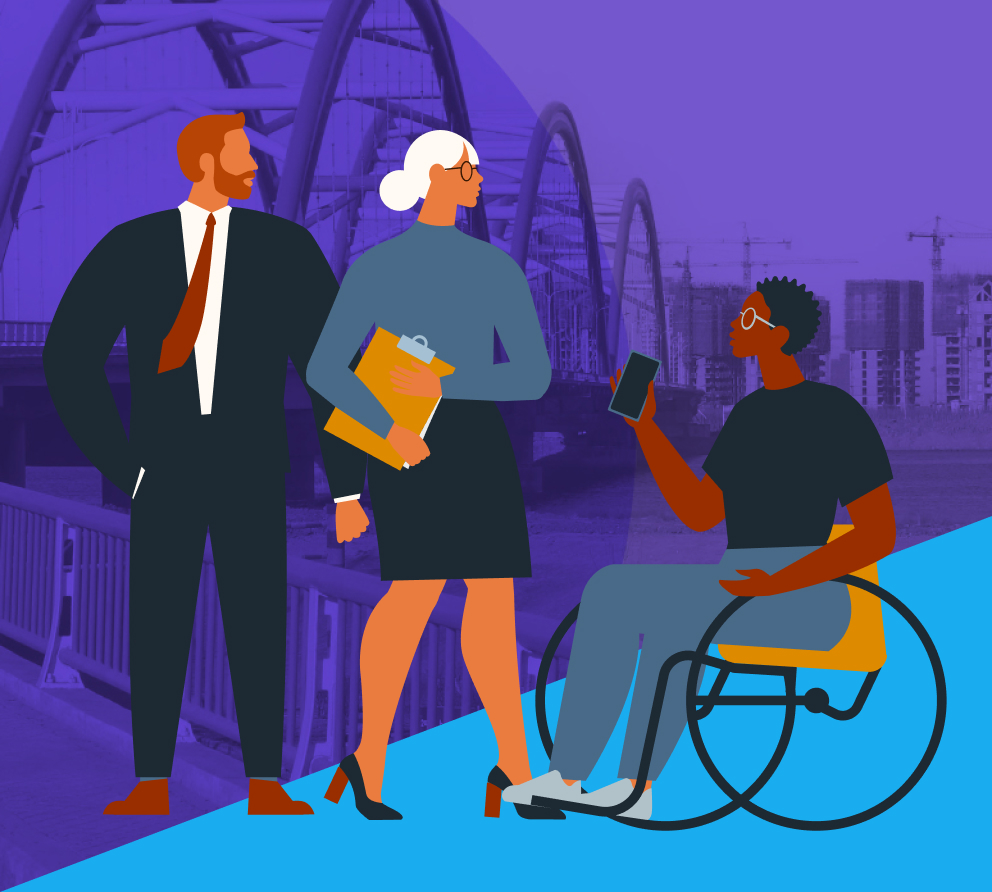 TOOL SUITE 1
HOW TO USE THIS TOOL SUITE
Different companies will face different challenges and opportunities. This tool suite includes a menu of tools to pick and choose from, based on organizational needs and priorities. Companies don't need to use all the tools listed here, and can use them in the order that best fits.
Where Does Your Company Stand on Gender Diversity and Inclusion?
These tools will help you assess and establish a baseline on gender diversity and inclusion to identify next steps for action.
How Can You Improve Gender Diversity and Inclusion at Your Company?
These tools help companies increase gender equity in recruitment, retention, and promotion.
How Do You Know If Measures to Improve Gender Diversity and Inclusion are Working?
These tools focus on monitoring, evaluating, and sustaining gains in gender diversity and inclusion in the workplace.
Fast Facts
WOMEN IN BUSINESS
Women are underrepresented in the infrastructure workforce, despite evidence that diversity improves workplace outcomes.

Female participation in the global renewable energy workforce remains low at 32%, with only 28% of technical roles held by women.
Source: IRENA

Women make up only 18% of the global water and sanitation workforce.
Source: World Bank

In Latin America, women are less than 15% of the construction and transport systems workforces, even though women represent half of the region's total labor force.
Source: IDB

Utilities with more women in leadership ranks outperformed their peers in ROI by 1.5% on average—adding up to millions of dollars given the asset-heavy nature of the industry.
Source: EY

In Ireland, Dublin Bus's women drivers had 38% fewer client complaints, on average, than the average male driver.
Source: European Commission

Family-friendly return-to-work policies increased post-maternity retention rates from 85 to 100% at Maersk, saving the company from replacing 54 employees each year.
Source: European Commission

According to McKinsey, firm that were in the top national quartile for gender diversity were 15% more likely to outperform the national industry median average for financial returns.

A 2022 study found that greater gender diversity at the board level was correlated with a lower carbon footprint.
EXAMPLES AND CASE STUDIES
Connecting with Women in Brazil
In Brazil, Desenvolve SP faced challenges in convincing female-headed households to allow local construction for sewage treatment systems, given the lack of related jobs or income-earning opportunities for women. To create buy-in and increase opportunities for women, sewage treatment companies (WESCOs) deliberately hired local women to help convince their communities about the need for the work and to connect their houses to the new sewage system. Along with creating improved communication and trust between the communities and the WESCOs, the new jobs also generated income for women, which allows them to pay for sewage services.
Maersk Cuts Turnover By Supporting New Parents
Shipping giant Maersk implemented a policy for employees returning to work after parental leave that gives male and female onshore employees the opportunity to work 20% fewer hours at full pay within the first year of childbirth or adoption for up to six months after returning to work. As a result of this policy, its post-maternity retention rate rose from 85% to 100%, and turnover of female employees fell from 16% to 10% between 2015 and 2017. In practical terms, this saved the company from replacing 54 employees each year.
Gender Equity Policies Improve Productivity in Valencia
The introduction of gender equality policies at the Port of Valencia led to a reduction in sick leave usage from 5.9% to 1.7%—a more than 70% decrease—over eight years. This could mean saving as much as €2,240 per employee per year in terms of productivity, or € 1.0 million for the company as a whole.
A Family-Focused Approach to Lactation Support
While many companies implement lactation support programs targeting female employees, the Los Angeles Department of Water and Power (LA DWP) recognized that decisions around breastfeeding involve the whole family. Although 80% of its workforce is male, the LA DWP initiated a lactation support program for mothers, fathers, and partners, which led to a dramatic reduction in turnover and absenteeism for both male and female workers. As a result of the program, 83% of employees were more positive about their employer and 67% felt that it contributed to their intention to stay with the department.
The Value of Mentoring
A 2006 study of Sun Microsystems found that mentees were promoted five times more often than peers who were not mentored—and the mentors were promoted six times more often. Among other findings:
25 percent of those who were provided with mentors had a salary grade change over a given period

5 percent of those without mentors had a salary grade change over the same time period

28 percent of mentors had a salary grade change, compared to 5 percent in a non-mentor control group

72 percent of mentorship participants were retained, compared to 49 percent in a non-mentorship control group.